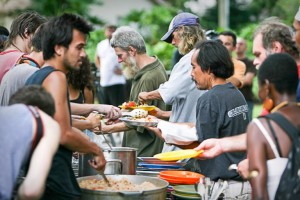 We feed the homeless three times per year one in November, December and in April.
In December we give away: coats, hats, mittens, socks, toothbrush, toothpaste, warmers, hot pockets, blankets and back packs.
Feeding the Homeless is a tradition during the holidays and throughout the year.   Greater New Hope Family Services and Greater New Hope Church combine three times during the year to feed the homeless.  It's a time to get a good meal, get spiritual food, watch the football or seasonal games on the big screen, and get some warm goodies for the cold nights.
What's the first thing you think of when you think about the holidays? If you're like most people, you probably think of food! Huge meals are so common at Thanksgiving and Christmas. Have you ever eaten until you were way too stuffed to be comfortable? I know I have!
Other things you might think of when you think about the holidays are shopping, decorations, gifts, a certain atmosphere in your home, family time, giving and traditions.
There are so many homeless people in our world . . . in our own communities . . . who, for various reasons, don't have the experience of that huge Thanksgiving feast or those much-anticipated Christmas gifts or that warm home atmosphere. And there are some simple ways that we can all get involved.   One way to get involved is to pack up your family and join us as we feed the homeless and help them have that holiday experience. If you can't pull up a sleeve pull out some funds to help someone else.
Ways to help the homeless:
Serve a meal
Donate food
Donate money for food, coats, mittens, gloves, socks etc
Hand out food
Pass out goodies
Pack backpacks with goodies
 If you would like to contribute to our Homeless Feeding Services please fill out the form below:
If you would like to donate to the Homeless Feeding please click below