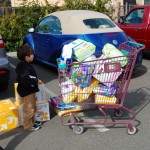 Families in the Portland area are constantly in need of food, clothing, shelter, and help with utilities.  If you ask us for the number one need in this area, the response will be housing.  Some of our families have very low incomes making housing a major barrier and in most cases a stumbling block.  We need a better plan to help families locate safe and affordable housing.
The other major barrier is the energy bill during the winter months.  We walk into homes with families sitting around watching television with coats on attempting to conserve the cost of energy.  It's a cold house and sickness is inevitable.  We have community partners and agencies helping families but it isn't enough.  We need more partners helping families to offset the high cost of energy.
Adopt a Family: You can adopt a family for the year.  Adoption can be open or private.  You don't have to take the children home or anywhere else for that matter. You can send a card or gift for birthdays and Christmas.  You can check on school attendance and grades by getting copies of progress reports.  You can send letters to the family or just keep up with what's going on with them.
Additionally, some children in the Portland area needs exposure to jobs even if they are part-time.   We have families hiring children to rake leaves, wash cars, clean out the garage to make spending money or money for school activities.
This is real for families and real help is needed.  If you want to talk to families, we can make individual appointments to talk to families on our outreach  team.
Contact us for more information.
Contact person for the Family Closet– Jeanette Allen 503-287-7556
If you would like to contribute to our Aide For Families please contact Ms. Allen or fill out the form below.
If you would like to make a donation please use our Donate Now button below!